by FansMine
How Websites Like OnlyFans Have Changed The Internet Forever
Feb 21, 2021
Meet the new pornographers and content creators thriving in a world of sex, celebrity and social media.
When it comes to the confluence of business and pop culture, it can often be difficult to know when global mainstream status has been achieved. For
OnlyFans
– the content subscription service favoured by many an adult-entertainment provider with time and an HD camera on their hands – that particular rubicon was crossed in late April. In one of the century's most potent celebrity shout-outs, none other than Beyoncé dropped a reference to the site in a remix of Megan Thee Stallion's smash hit 'Savage'. Specifically, rapped the most successful of Destiny's Children, "Hips TikTok when I dance/ On that Demon Time, she might start an OnlyFans (OnlyFans)." Her nod to the site apparently caused a 15 per cent spike in traffic on the day the single dropped.
But Queen Bey isn't the only big-name celebrity drawn to the OnlyFans phenomenon. Cardi B went a step further in August
by actually opening an account on the platform
, entitled Welcome To My World. Here, for just shy of $7 a month, you can gain a behind-thescenes glimpse into Cardi's days, nights, photo shoots and downtime. As to what followers could expect, the woman born Belcalis Marlenis Almánzar was quick to add that she would be keeping things PG: "No I'm not going to be showing my titties, or my pussy, or my ass," she clarified. "Just straight up real-life content shit."
Why the disclaimer from an artist who wears her sexuality and body-con like a badge of honour? Well, much of OnlyFans' success has been built on the strategic revelation of flesh. And it's a hugely profitable one. Founded in 2016 and owned by the London-based Fenix International Limited, some analysts
have valued OnlyFans at just shy of a billion dollars
. By contrast, Netflix took 10 years and Apple 14 to cross the billion-dollar threshold.
For those who have been living in a digital black hole (we admire you), here's how the platform works. Once creators have established an account, they ask their followers to take out a monthly subscription to view their content. The subscription fee, decided by the creator, ranges from anywhere between $7 and $70. As far as the business model is concerned, it's a fairly simple one – OnlyFans takes 20 per cent of the creators' income for hosting the platform and facilitating the e-commerce.
Beyond that, it's all down to those hoary twins of trade: supply and demand. Some performers charge a flat fee for a certain number of photos or videos a month while others provide tiered services where the more you pay, the more you get – both in terms of quantity, exclusivity and, sometimes, explicitness. Should you particularly love someone's work, you can also throw tips their way.
While so many industries have been razed by
Covid-19
, OnlyFans found itself in the midst of a perfect commercial storm. As the pandemic was declared, everyone from sex workers and musicians to fitness models and actors were separated from their clients, audiences and incomes – virtually overnight. Bills needed to be paid, livelihoods maintained and lonely hoursat home required filling.
At the same time, with travel, dining and bar-hopping off the cards, potential subscribers suddenly found themselves with a bit of extra cash. The two circles of this Venn diagram overlapped, with
Forbes estimating a 75 per cent surge in sign-ups since the crisis hit
. At last count, the site had some 30 million registered users and 450,000 content creators. In the first four months of 2020, 200,000 Australians signed up – more than 5000 of them as content creators.
Few have mastered the medium better than 29-year-old Perth native Jem Wolfie, who has parlayed
a 2.7 million-strong following on Instagram
into "
the most subscribed OnlyFans account in the world
".
According to the OnlyFans blog
, she has almost 10.5k fans, each of whom pay a monthly $7 fee to access her content. She wouldn't reveal her exact income to GQ but she recently took to Instagram to pose alongside a shiny new custom blue Porsche 'Turbo 718 GTS'. So she seems to be doing pretty well.
What is it about Wolfie's content that keeps her many fans coming back for more? The immediate yet mistaken assumption would be that her feed mirrors the explicit material found elsewhere online. But where the latter is often beyond X-rated, Wolfie's would receive an R rating, at best. With her hourglass figure always strategically covered with wisps of fabric, she straddles the middle ground between coquettish centrefold and girl next door. There's a smartly contrived sense that what you're viewing are private photos from a smoking hot girlfriend meant for your eyes only. But more on that later.
What is most apparent is that Wolfie has cracked the code to what has become the burning question of the millennium: how to monetise social media. Sure, the Kardashians and others have turned their huge followings into legitimate careers, but in terms of pure conversion of posts to cash, OnlyFans has changed the landscape entirely. Though, there's more to it than just the dollars for Wolfie. "
Other than financial gain," she says, "OnlyFans offers freedom to post whatever you want without restrictions; it's a great way to express yourself without judgement from random people. OnlyFans is literally for your fans only, so you're able to interact with a smaller number of people than, say, Instagram. But my brand as a whole has definitely grown over the years," says the model who has also released a clothing label called Wolfgang Apparel, created her own line of vegan treats, and collaborates with Atlantic Records to add soundtracks to her videos.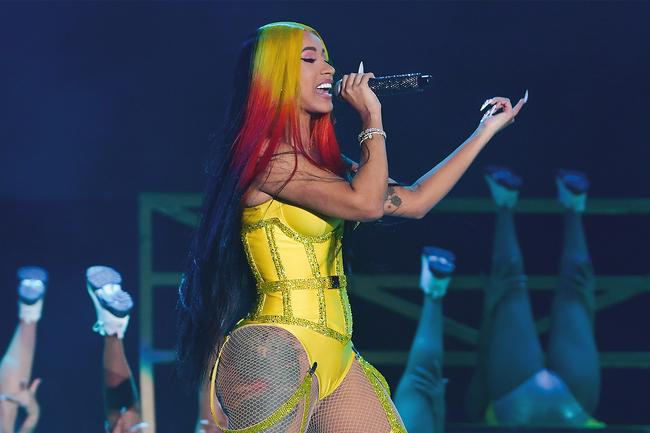 Above: Cardi B set up an OnlyFans account in August.
From the outset, however, Wolfie has combined an unshakeable sense of her own worth ("I made it very clear to almost all the brands I work with from the beginning that, I don't want you to send me boxes of supplements or a shitload of leggings, I want to be paid"), an unwavering editorial policy ("I don't do full nudity and I won't") and some smart economics (the longer you subscribe, the cheaper it gets).
"I feel free and independent on OnlyFans as I don't get as much judgement on there as I would on other platforms. There are no restrictions and it's a great way to send positive messages through content," says the model who, for example, proudly displayed her cellulite in a recent post. She has also clearly found a sweet spot between giving the audience what it wants and leaving enough to the imagination to have them returning in their multitudes.
As far as the downsides of OnlyFans stardom go, Wolfie says, "Your content will always get leaked onto other sites so you don't post anything you're not proud of or happy with. You also have to deal with aggressive comments for not posting nudity. Some people try pressuring me to go down that path but it doesn't really bother me."
Aside from millennials like Wolfie, who are seeking to transfer their Instagram followings into OnlyFans subscriptions, it's sex workers who've formed the backbone of the platform's growing pool of creators. In an industry where pay can be inconsistent and workers left vulnerable to exploitation, the platform has offered a new source of income as well as a safe way to interact with customers. For Sydney escort and entrepreneur
Samantha X
, it's been a game changer.
"OnlyFans has always been hugely popular for those working in the adult industry," she tells
GQ
. "This is a place where I feel more comfortable showing a bit more of my body. I am incredibly shy and cringe at most 'sexy' photos of me. But I am who I am. I am in the adult industry and will probably always be known as that woman, so I may as well make the most of it while I still can. I feel OnlyFans is the safest way to do that – I know exactly who is looking at my photos and the content is in line with [my agency's] brand."
More than just a safety net, OnlyFans also offers X and others the opportunity to branch out into other forms of content. Aside from posting what she has termed "some embarrassingly tame" images, X has broadened her offering so that subscribers get "exclusive access to my vlog series on subjects they've requested, from sex, intimacy, relationships and connection to living a healthier lifestyle. Subscribers can also ask me questions for personal one-on-one advice."
Above: 19th century It Girl, Sarah Bernhardt.
For Alan McKee, Professor of Digital and Social Media at University of Technology Sydney and an expert on entertainment and sexualised media, the OnlyFans explosion is – to quote Shirley Bassey – just a little bit of history repeating. 1860 to be exact.
As McKee points out, the Industrial Revolution gave rise to a new class of urbanised workers who had leisure time their rural forebears never dared dream of and what they wanted in that leisure time was entertainment. With entertainment came stars and there was no one bigger than Sarah Bernhardt – who McKee likens to the Kim Kardashian of her day.
It's an apt description as Bernhardt also monetised her persona with such enthusiasm, it would have made Kris Jenner blush. After watching her perform, McKee notes, you could buy and collect photos of her in postcard form but "if you were very rich, you could then buy an intimate encounter with Sarah Bernhardt. If you were a prince, you could send a bunch of flowers into Bernhardt's dressing room with a note saying, 'Will you meet me for dinner?' She would say yes. And then she'd become your lover.
"That kind of impulse is there from the 19th century onwards," explains McKee. "The parties form a relationship, which is mediated but in which there is a desire to move to an intimacy beyond that mediation. And by understanding that, it helps to explain what is now going on with OnlyFans. What's different now is the democratisation of access. When it was Sarah Bernhardt, you had to be either a prince or commandant in the French army to see her. Now with OnlyFans, it's $7 a month, but it still offers that same tension between 'this is somebody who is out of your reach' versus 'this is somebody with whom you can have an intimate contact'. And that is the tension that makes subscribing to OnlyFans different from talking to the person next to you at work."
McKee points to the success of Wolfie's content, stressing she does not adhere to the traditional porn formula of, his words here, "large objects in small holes". "She does soft-core pornography," he says, "but what you're selling is charisma, character, personality, story, brand, something interesting happening every day, which again, is pure entertainment aesthetics. And that is very exciting and wonderful from a Marxist perspective."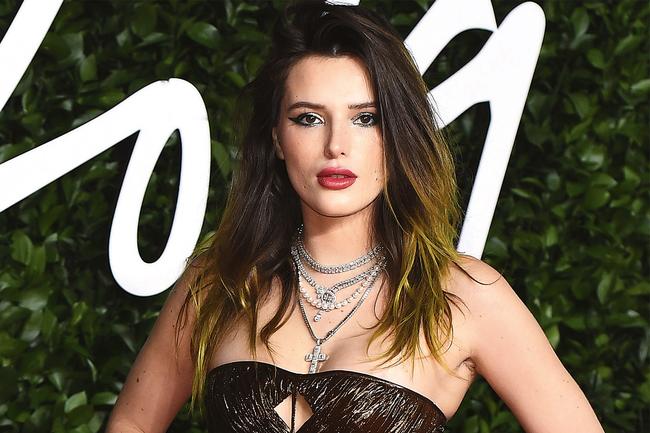 Above: former Disney star Bella Thorne
Yes, Karl Marx. It turns out his principles are firmly in play here. McKee notes that the introduction of camera phones a decade ago allowed workers to seize the means of production in that we could now be the stars of our own entertainment. In addition to the means of production, sites like OnlyFans have allowed creators to seize the means of distribution, too – not only can they make their own videos but they can get them out there without being beholden to a parent company. Think of it as the Uber of titillation.
But, much like Uber, the story of OnlyFans is not without its controversy. While, in theory, the platform enables anyone with a camera phone and an Internet connection to make money, the reality can often look a little different.
One person was able to highlight the cracks in the facade – former Disney star,
Bella Thorne
. In what soon became a highly publicised scandal, the actress created an account in August and within 24 hours, had raked in $1.4m, a figure that's now closing in on $2.8m. After explaining that her actions were partly prompted by research for a new role, she set a fee of $200 for nude photographs. Fifty thousand subscribers said 'yes please' but received only a series of lingerie shots.
They predictably cried false advertising and demanded their money back, which resulted in OnlyFans weathering a media shitstorm and having to dole out thousands of refunds. The furore took place at the same time as a change in OnlyFans' policy where creators can now charge only $50 for exclusive content and tips are capped at $100 – previously there had been no limits on either. It also altered the way payments work, so creators would be paid monthly instead of weekly
Above: rapper Tyga is one of the latest big names to join OnlyFans.
One of the key benefits of Patreon is that charging a fee allows for content free from the intrusion of advertising, while sidestepping the possibility that the creator may have to plug products that do not align with their own values. As with OnlyFans, this delivers a sense of freedom. But while this sense of liberation is inviting, the earnings don't always follow the same pattern. According to a 2017 study, only two per cent of the platform's creators make more than the US minimum wage.
It's undeniable that innovations like OnlyFans have undoubtedly changed Internet culture and, by extension, social behaviour forever. Bella Thorne might have shown that it is far from a perfect system, but for now it could not only offer an opportunity to stem the tide of free porn that has decimated the adult industry in recent years, but also help reduce the stigma around sex work. What's more, as an increasing number celebrities join the platform – everyone from former teen idol Austin Mahone to rapper Tyga have recently opened accounts – it could well provide a glimpse into the future of mainstream entertainment. A
fter all, anyone can, in theory, turn themselves into the next Jem Wolfie, generating thousands of dollars from the comfort of their own bedroom without a boss hovering over their shoulder. For any artist or content creator with even a shred of ambition, that is a tantalising prospect. Similarly, the gap between those who create content and those who consume it has converged, and most likely will continue to do so. The success of OnlyFans might lie in that most basic rule of commerce: sex sells. But as performers like Wolfie prove, it's smarts that make the serious money.