by FansMine
Top Patreon Alternatives FansMine Only Fans
Mar 20, 2021
This is a list of Patreon alternatives you should know
I'll cover:
This list will also include a link to a very thorough crowdfunding guide.
TL;DR What are some good Patreon alternativs
If you are just starting your way as a creator and you don't have an audience backing you yet, Ko-Fi or Buy Me A Coffee are good alternatives because they are either free to start with or have a small monthly fee, and include the core features you need. If you are a writer/publisher, SubStack could be the right Patreon alternative for you, since it's free to start with, have writer-oriented features and you only pay once you make money. If you already have an audience and you need both advanced features and better pricing for your high-volume monthly transactions, Podia and Memberful are good options for you.
ConvertKit Commerce is the latest alternative (Nov 2020) and is very unique since it combines a strong email marketing tool for creators with a new membership solution.
For developers, wait for GitHub Sponsors (currently in beta). If you are just looking for recurring donations and basic features, consider Liberapay.
What is Patreon
Patreon lets creators enable their fans to support them via a monthly subscription. Creators make a monthly living from their creation and supporters get perks in return (like access to exclusive content). Unlike Kickstarter and Indiegogo (or other traditional crowdfunding platforms), there is no deadline for the campaign to end and you don't set a goal you want to raise. Patreon has the nature of the platform, meaning you can potentially get discovered there by fans who don't know you yet. However, as I previously emphasized in
the complete crowdfunding guide (really, 7000 words),
don't trust platforms to do your marketing. It doesn't really work that way.
Who is it for
Broad - All sorts of creators (writers, podcasters, developers, gamers, musicians, video artists, visual artists and more)
Fees
Lite version - 5% of the funds raised + payment processing fees (2.9% + 0.30$ per transaction, or 5% + $0.10 for transactions under $3).
Pro - 8% of the funds raised + same payment processing fees
Premium - 12% of the funds raised + same payment processing fees
Features
In addition to a creator page and ways to communicate with your fans, on some plans, you can create tiers, see analytics, and sell merch to your members. Here's the full list: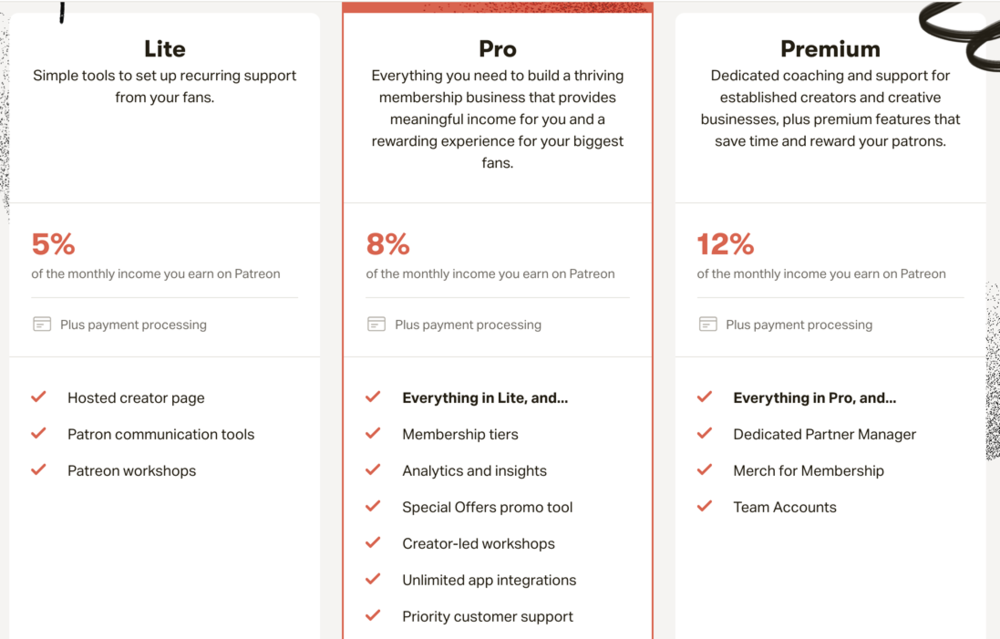 A screenshot of Patreon's pricing and features-list
Patreon Alternatives
1)
ConvertKit Commerce
(update November 2020)
(Fair disclosure: I'm compensated as an affiliate for ConvertKit but keep my opinion and writing professional)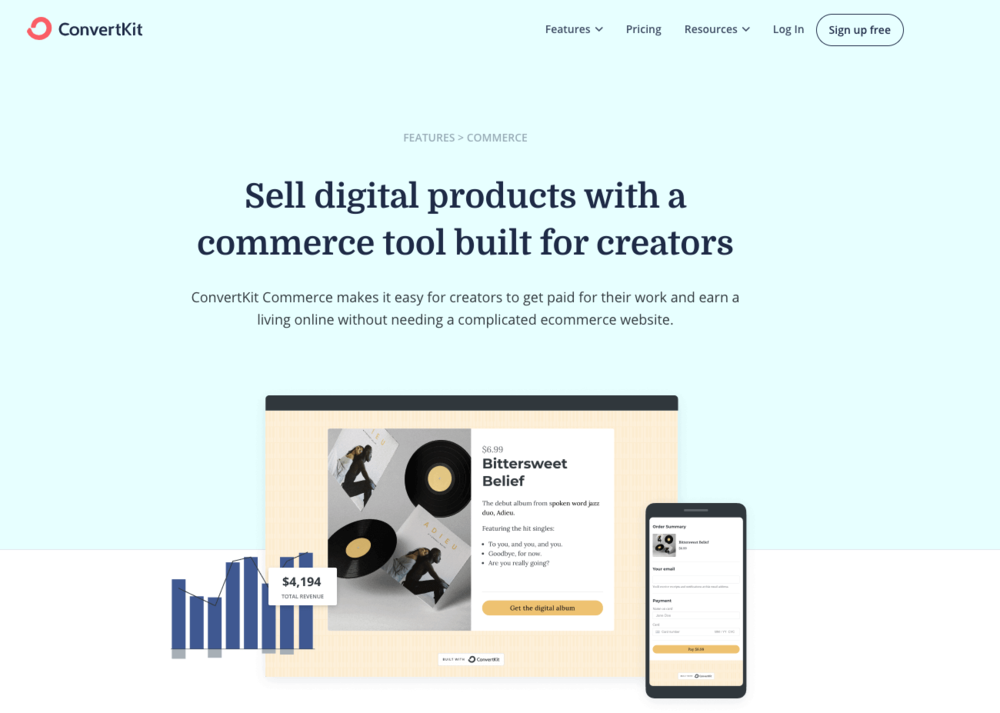 What is it
So far ConvertKit has been a leading email marketing tool for creators to communicate with their fans, subscribers and customers (I use it and this is
the complete ConvertKit review
).
Now, I guess ConvertKit decided to cut the "middleman" (i.e. all the Patreon Alternatives you see below) and enable creators to sell digital products and subscriptions directly through ConvertKit.
This enables you to tailor your messaging to existing and potential customers based on their commerce engagement with your product.
For example, if someone downloads your
lead generation
ebook and indicates they have advanced knowledge in the ebook's domain (cooking for example), you can send an automate offer to purchase the advance course.
If they are beginners and have no knowledge about cooking, you can automatically pitch the beginners course. Nice ah?
Who is it for?
For creators who sell digital products like courses, ebooks, paid newsletters, coaching and more. ConvertKit is really good at helping you automate your communication with your audience (current and potential) so if this is important to you as a creator, you should check 'em out.
Fees
They have a free plan, but it's relatively limited. The pricing changes depending on the number of your subscribers. Up to 1,000 subscribers - $29/month + 3.5% + $0.30 per transaction. 3,000 subscribers - $49/month and the same transaction fees.
See Their full pricing
.
Features
I have
reviewed ConvertKit here
but with regards to Convertkit Commerce, they enable you to sell digital products and subscriptions using Stripe, create landing pages, email marketing campaigns, automations and more.
Get the F-R-E-E "Email Marketing That Works" Course
​
Subscribe
If I ever spam you, spam me back (arik@spectroomz.com)
2)
Buy Me A Coffee
What is it
A platform that Lets you get monthly or one-off support from your fans.
Who is it for
Relatively Broad - YouTubers, musicians, podcasters, writers, programmers, nonprofits, gamers, and more. However, it looks like it's built mainly for small creators. Comparing to Ko-Fi, they put more emphasis on the platform and discoverability aspect of creators (but don't count on getting new fans there, I assume it's not common).
Fees
All features are open, no monthly fees. 5% of the funds raised + Paypal/Stripe processing fees
Features
Landing page, one-off or membership features, sell digital goods, share exclusive posts, payment transferred instantly via Stripe or Paypal , you own your members' data (they claim they don't email or contact them) and can export a list of them anytime.
3)
Ko-Fi
What is it
Ko-Fi is a Patreon alternative that lets you get monthly or one-off support from your fans (some fans can't afford a monthly subscription, so you would still be able to get their support).
Who is it for
Relatively Broad - All sorts of creators. However, it looks like it's built mainly for small creators.
Fees
$6/month for the plan that enables you to offer monthly subscription + Paypal or Stripe's payment processing fees (2.9% + $0.30). You get paid with every donation immediately.
Features
Free membership - Landing page, 0% on one-off donations. Pretty limited, doesn't enable subscriptions. Not a real alternative to Patreon.
Paid membership - Landing page, exclusive content to fans, one-off and monthly subscription, commissions tools, better quality media (also enables fans to download high-resolution images), and analytics. There are additional minor features, but no significant marketing tools, see below.
4)
Podia
What is it
Podia is a feature-rich tool that enables you to sell online courses, webinars, and run a membership program.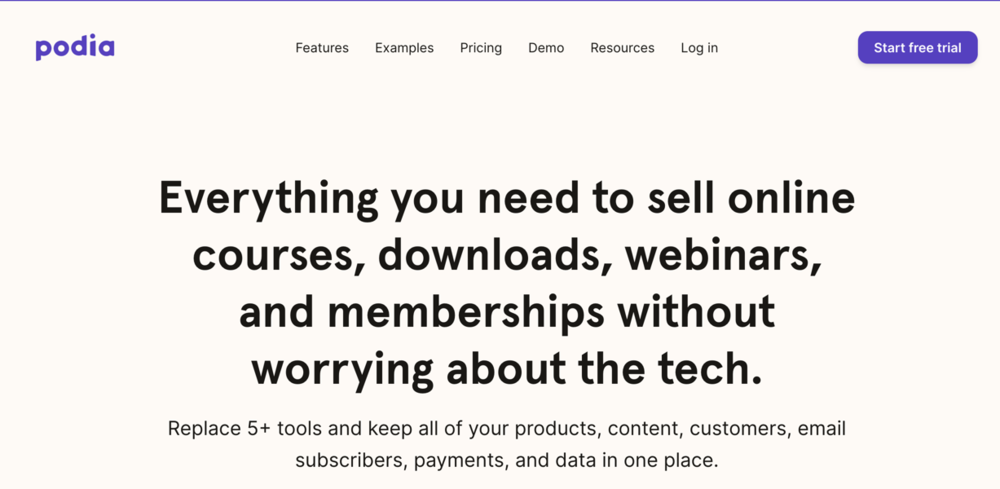 Who is it for
It looks like their focus is on educators and online courses. But their membership features are rich and can fit all sorts of creators. It is relevant to more advanced creators who already have an audience they monetize and want to give them more options + save on fees.
Fees
Their 'Shaker' plan includes the membership feature and it is priced $79/month + payment processing fees (Paypal or Stripe).
Features
Podia tries to provide a complete tool. It includes a landing page, membership features, blog, sales pages, email marketing tools, live chat tools, coupon system, upsells, affiliate marketing and additional marketing features, the data belongs to you, 100% white-label. In addition, you can use online courses, webinars, and digital downloads features. It also enables you to integrate with other services using Zapier as well as integrate a Facebook pixel and Google analytics (if you plan to advertise in order to get users, setting a Facebook/Instagram pixel is important, platforms like Udemy don't enable you to do that and they know why).
5)
Substack
What is it
A platform that enables you to start a newsletter and earn from monthly subscriptions.
Who is it for
Writers and publishers.
Fees
It's free to publish and send emails (no limit). They charge 10% of the funds you make once you start charging a monthly subscription + payment processing fees (similar to others).
Features
Write and send email newsletters (you can schedule delivery as well), a landing page, free or monthly subscriptions features, statistics (open rate, click rate by link), add subscribers manually or with CSV file, subscribers can comment via email and so do you, get discovered by others (this is for selected newsletters, but I think the discoverability element here is more promising than other platforms).

6).
Memberful
What is it
A tool that lets you Sell membership to your audience. It's owned by Patreon who probably started this for their bigger customers who didn't want to keep paying the regular fees or send their fans away from their own site. It's a tool that integrates with your existing Wordpress website.

Who is it for
For creators of all kinds with an existing audience. This is not for small creators since it requires a monthly subscription.
Fees
Pro - $25 + 4.9% + payment processing fees.
Premium - $100 + 4.9% + payment processing fees.
Features
Membership
feature, members' only content, advanced email marketing integrations (Mailchimp, ConvertKit, Drip), Discourse integration, transactional emails, coupons, analytics and conversion tracking, group subscriptions, members management and more.
7).
LiberaPay
What is it
Reccuring-only donation (open-sourced) platform (no one-off donations). It is focused on donations, meaning people
can't
offer anything in return.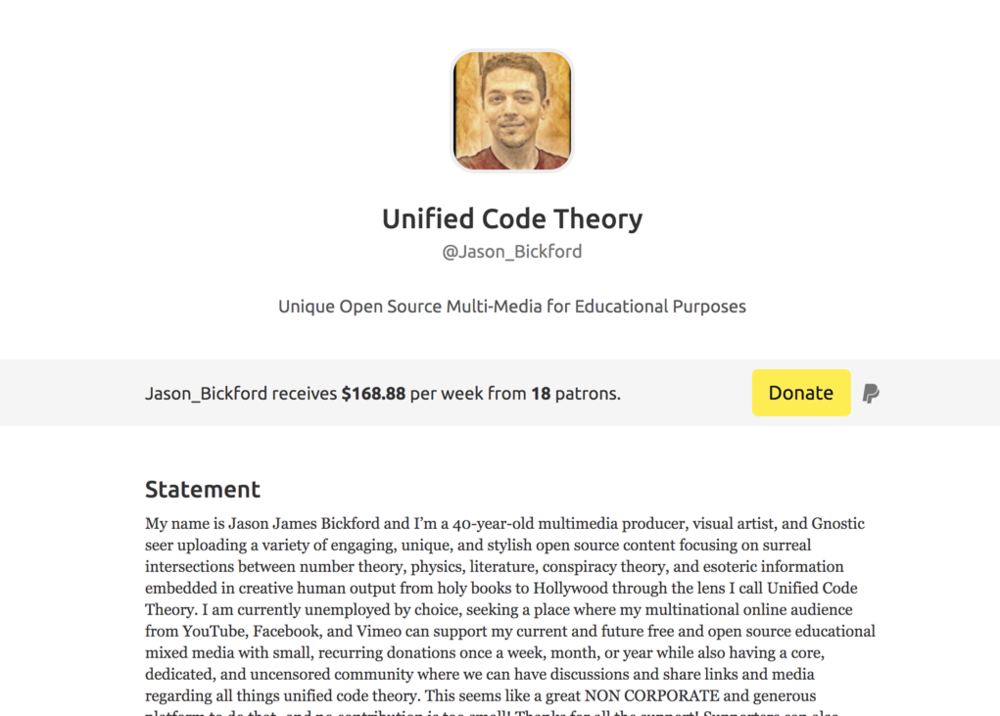 An example Liberapay page
Who is it for
For creators who want to get
donations
, which makes it less of a real Patreon alternative.
Fees
Payment processing fees of an average of 5%. The platform doesn't charge anything
Features
Landing page, localization (currency and platform-language support), membership features (including setting tiers).
8).
Gumroad
What is it
This is a very impressive tool for creators to monetize their audience. Among its many features, it also enables to run a membership program.
Who is it for
For creators who sell books, films, courses, music and more. It looks like their focus is on e-commerce for creators. They also enable you to run a membership program similar to Patreon.
Fees
If you go for the free plan, you'll pay 5% + charge fees (3.5% + 0.3c). If you go for the paid plan, you won't be charged with the 5%. Instead, you'll pay a monthly fee based on the amount of yearly customers you have: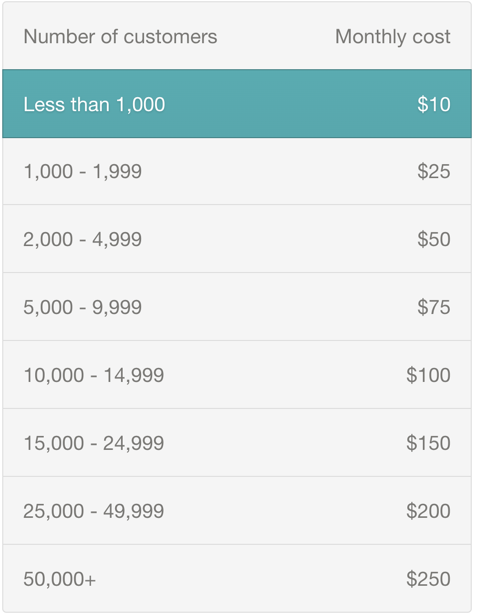 Features
In addition to many e-commerce features like coupons, selling in different currencies and much more, these are the membership-specific features:
Interesting upcoming Patreon Alternatives
9).
GitHub Sponsors
It's like Patreon, but for software developers. Zero fees (GitHub even covers the payment processing fees). Currently in beta in certain regions.
Currently available on
10).
Cent
Recurring payment to creators (currently looks like they mainly cater to developers or other related communities), in which supporters can support on a one-off basis or on an ongoing basis (Seeders). The platform enables those Seeders to earn from Seeders who support their creators after them. Currently works only with Etheruem (cryptocurrency) and was recently updated. Not fully functioning but you can play with it. It's a very interesting, advanced concept.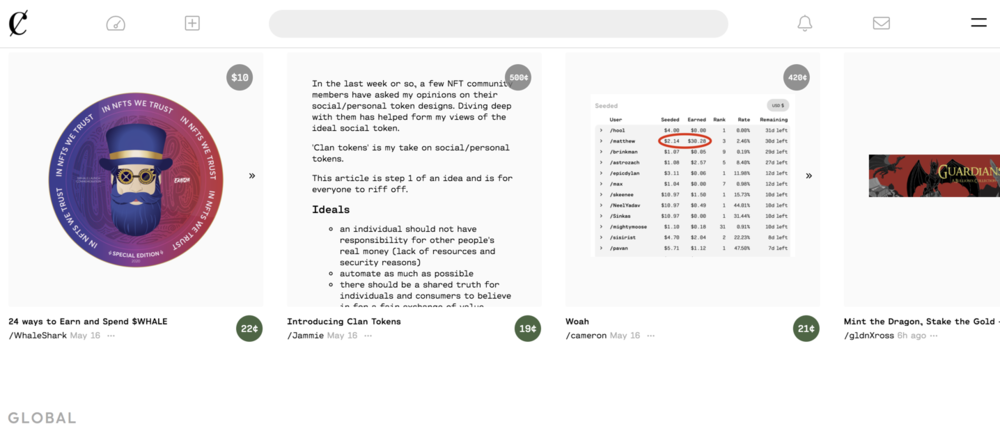 11).
CoinDrop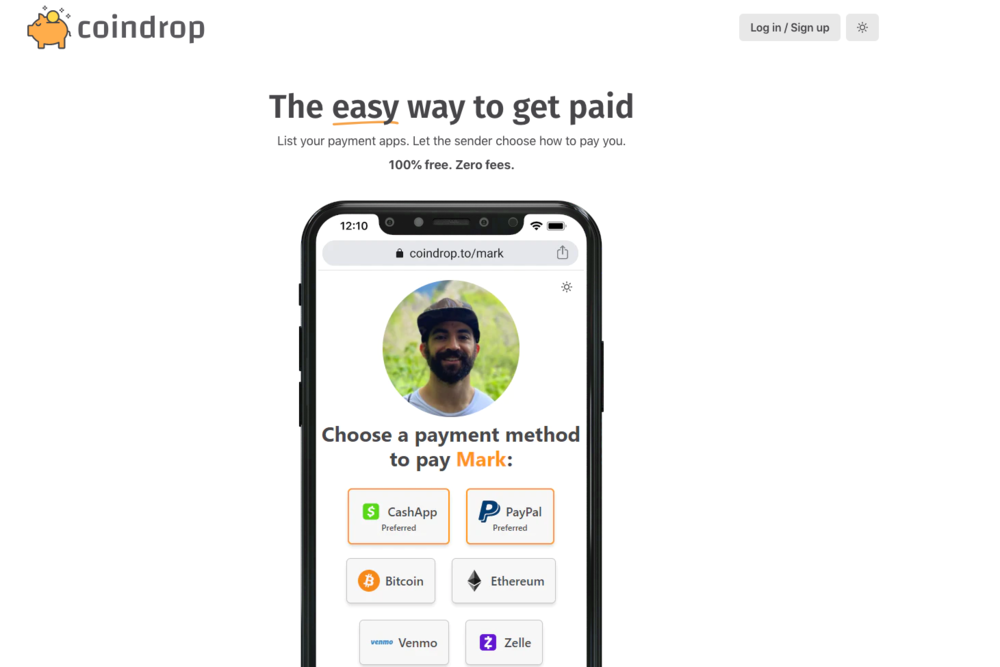 It's a tool that enables you to get paid but it doesn't have a recurring payment options. It only enables one-off payments.
You can post or share the link with your audience and sell merch, educational materials or get support for your work.
The app is novel in the sense that it enables you to choose your desired payment options (even Bitcoin or Ethereum) and send a link to the person looking to make the payment. Of the options you enabled, they can choose how they prefer to pay.
CoinDrop doesn't charge any fees (they intend to make money from ads on the site, affiliate links and more). That doesn't mean you won't pay PayPal fees if you choose it as a payment method. It just means CoinDrop doesn't take a fee too which is great.
CoinDrop reminds me of Libarpay, but for one-off payments.
It's also Open-Sourced.
For those with a community around a topic looking for extra engagement
Circle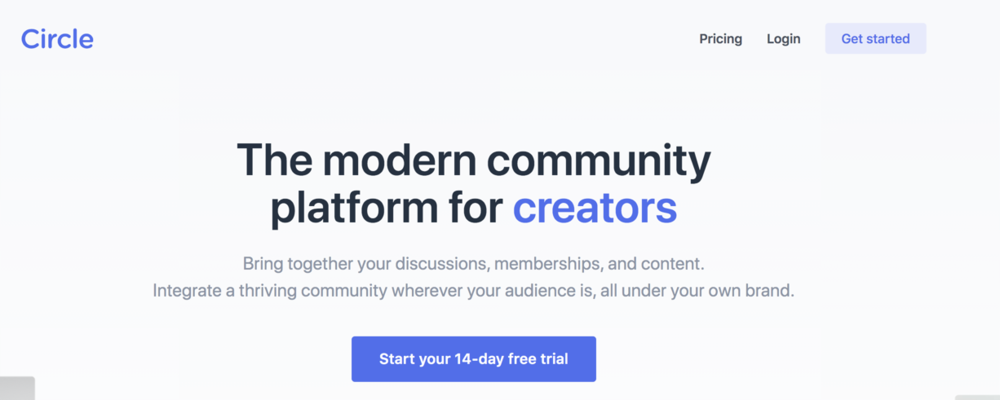 Already got a significant community? Circle is a complimentary platform that lets your community interact with each other. I recently started using it for my
community on Spectroomz
, switching from Slack.
You could say it's like a forum, but very intuitive.
It also has the potential to get more people to subscribe to your premium content. You can set spaces for everyone and spaces just for paying members. This potentially can increase the number of your paid members.
Who is it for
It's for creators who already have a community around a certain topic. If your community is just about enabling you to create your art, then it might not be beneficial for them to interact. But if you have a community around a certain topic, this makes a lot of sense.
Fees
They have a 14 days free plan (no credit card needed which is great), and then you choose a plan from $39-$199/month.
Features
Private and public spaces
Spaces for paid members and for everyone
SSO options and integration with Memberstack and Memberspace
Zapier integration
Automatic weekly email digest of top posts
Direct messaging
Live video (soon according to them)
Creator's Pro Tip
When you start building your community, you should try to connect with them on a weekly basis. You can do it with the above tools, but
ConvertKit
is a great email marketing tool for creators (I use it) because it enables you to segment your audience based on many different factors and contact each segment with tailored messaging:
Those who purchased from you (you can even segment by the amount of purchase in many cases).
Those who engage with your content (open and/or click)
Those who don't engage with your content
Many more
Learn more in my
ConvertKit review
Fair disclosure - if you sign up with Convertkit or Circle through my review, you support Spectroomz. However, the review is not affected at all by that (there are improvements offers + alternatives too).